Protest Art Postcards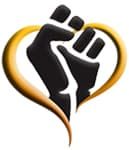 SOLIDARITY ITEM! All proceeds from your contribution will be sent to groups organizing to Stop Cop City! 
Double your impact! In addition to contributing funds to support local organizers, use these RECYCLED paper postcards to get involved wherever you are! Each postcard image is an original work or art inspired by song lyrics that shed light on the system problem of policing (lyrics are written on the back of each card). 
Here are some ways these postcards can be put to use:
1. Go old school and send a postcard to a loved one. Yes, through the actual mail! This personal touch may be just the nudge someone needs to get involved!
2. Hand them out, AFTER you have a conversation with someone who shows interest in getting involved. The QR Code on the back leads to our resource page which will be updated as the movement progresses.
3. Speak Truth to Power! Look up the office address of Atlanta and/or Dekalb County officials and send them a postcard with a personal note demanding that they Stop Cop City! 
Click here for more info about Stop Cop City!
Calling all Creatives! We're expanding this collection to include the work of other artists like YOU! Learn more about the Stop Cop City Protest Art Challenge!