Stick It To 'Em Stickers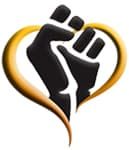 SOLIDARITY ITEM! All proceeds from your contribution will be sent to groups organizing to Stop Cop City! 
We've been so inspired by the creative ways that people all over the world have been showing solidarity and taking action to Stop Cop City! One of the most simple and creative examples we've come across is someone putting stickers on a Stop sign (see alternate product photo above). Powerful! The act of taking a common sign that can be found in any city or town and repurposing it to spread awareness about Stop Cop City is just brilliant! We were so inspired we decided to offer stickers in our Solidarity Shop. Stop Cop City everywhere!
If you capture a photo of the stickers and post it on social media, use the hashtag #stopcopcitysign 
Each order contains 3 separate stickers (white ink on transparent sheets) with the words "Stop", "Cop", and "City".
If you are doing a mass mobilization project and want 25 or more stickers, This email address is being protected from spambots. You need JavaScript enabled to view it. for bulk orders! Let's move take action collectively!